This weekend we have a nice batch of $10 cds for you guys, along with a big batch of restocks from our friends at GEAR FAB, purveyors of garage and psych 60s and 70s reissues!
Plus a few more of those GREG SHAW T shirts, they are selling FAST and obviously won't be any more! We have just donated to a museum a very cool demin jacket that Greg and the Mojo Navigator crew drew back in 1966 with cool psych art, featuring pre Grateful Dead bands like Mystery Trend, Freedom Highway and the Great Society. Obviously THAT is not for sale, but you can get in on the T shirts.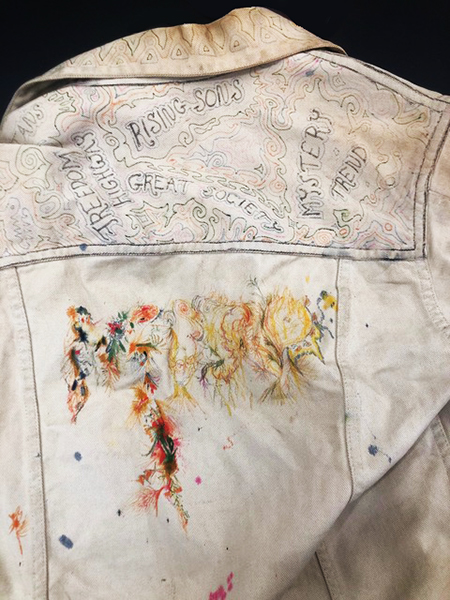 Thanks for all kiddies, love you guys!
Suzy Shaw
Drop these skus into our search to see all the items or read the text version below
NEW SKU
23630,23628,23629,23603,23604,23601,23602,23605,23606,23607,23608,23609,23610,23611,23612,
RESTOCKS
19612,18725,20074,21715,23197,18663,14911,21529,19301,21723,21710,19001,21726,21732,21234,4896,21967,23196,10897,10062,21824,20425,22912,22917,22918,22919,
MORE GREG SHAW T SHIRTS!
I finally decided to dig around in the box labeled "GREG'S T SHIRTS" that has been here in our warehouse for 15 years. Some very cool shirts! A YARDBIRDS T shirt that he allegedly wore to the Monterey Pop Festival sold for $3,000, and his Granny Takes a Trip jacket recently went for $550 on E bay, but I wont charge you those prices!These are not pristine,but neither was Greg, ha ha. No serious damage on any of them but I have left them as is .
SEEMEN -ONCE OWNED BY GREG SHAW! Label:FRUIT OF THE LOOM And REALLY worn, as you can see. I've left the "patina" but I'm sure it would wash very well. LARGE 100% cotton, 37" across chest. This was a band signed by Greg in the 90s. APPAREL $125 SKU:23630
TUFF DARTS-ONCE OWNED AND REALLY, REALLY WORN BY GREG SHAW! Label:JC PENNY MEdium soft cotton poly blend 37" across chest APPAREL $125 SKU:23628
WILLIE NELSON-ONCE OWNED (NOT WORN) BY GREG SHAW! Label:NONE OWNED, but probably not worn! This is from the box of shirts brought in from Greg's house when he died, BUT I doubt he ever wore this. All the same, cool shirt. M 100% cotton, 32" across chest. APPAREL $25 SKU:23629
NEW $10 cds!
16 FOREVER -TOO MUCH TOO LATE (British 80's pop punk pioneers)-Label:NO FUN British 80's pop punk pioneers! This long awaited release includes all their 7" and 10" recordings plus some unreleased songs like he Dictators "Loyola" - Highly recommended for fans of Devil Dogs, Campus Tramps and other hard-edge pop punk bands CD $10 SKU:23603
BOYS FROM NOWHERE-BRIDAL ALBUM (80s garage)-Label:SKYCLAD Great Garage Punk from Columbus, Ohio led by Mick Divvens (Vocals, strings) and featuring John Bernardo of The Lyres on Drums CD $10 SKU:23604
DIALS-AMOEBA AMORE(Chicago power pop) Label:NO FUN Second album by great Chicago Garage/Pop band! The Dials are the perfect marriage between 60s girl-groups and 80s power pop-gone-Devo. From the incredibly upbeat "Antonio," to the in-your-face rocker "Joe Lies," they deliver the goods! CD $10 SKU:23601
DROOGS- Atomic Garage (L.A. legends)- Label:LAKOTA GARAGE-ROCK VETERANS-STRONG! CD $10 SKU:23602
LEGIONAIRE'S DISEASE- Catch The Disease (1977 TEXAS PUNK MAYHEM)-Label:LUNAR GREAT 1977 TEXAS PUNK MAYHEM! AWESOME ARTWORKCD $10 SKU:23605
LOUD- ST (GREAT L.A. PUNK FEAT HECTOR OF THE ZEROS Label:LAKOTA GREAT L.A. PUNK FEAT HECTOR OF THE ZEROS CD $10 SKU:23606
MANITOBA'S WILD KINGDOM AND YOU- ST (HARD ROCK'N'ROLL W Dicatators members) Label:AMERICAN BEAT A BLAST OF HARD-ROCK'N'ROLL WITH ATTITUDE! DICTATORS MEMBERS DICK MANITOBA, ANDY SHERNOFF, ROSS THE BOSS AND JP PATTERSON FANTASTIC SIDE PROJECT. 10 KILLER TRAX CD $10 SKU:23607
ORIGINAL SINS- Self Destruct (60s Power Pop)Label:SKYCLAD Guitar/power/pop BLAST from one of the best rock bands from PennsylvaniaThis album is heavier and rawer then the previous releases. Thick psychedelic rocksound with wailing organs and majestic blasts of sneering fuzzoverkill guitars. This record is dedicated to Velvets, Stooges, Seeds, Ramones and Bo Diddley. CD $10 SKU: 23631
PINK SLIP DADDY -ANTIDISESTABLISHMENTARIANISM (Cramps style punk R&R) Label:SKYCLAD GREAT CRAMPS-STYLE PUNK-R&R FROM PHILLY CD $10 SKU:23608
REMAINS (TOKYO)-TOO MUCH TO LOSE (IGGY/BOWIE/STONES style) Label:1&2 DEBUT RELEASE FROM TOKYO BAND IGGY POP/DAHL/BOWIE/STONES/THUNDERS INFLUENCED
CD $10 SKU:23609
SONS OF HERCULES-ST (MC5 Radio Birdman style) Label:UNCLEAN DEBUT! GREAT MC5/ RADIO BIRDMAN-TYPE RNRCD $10 SKU:23610
HODGE PODGE & BARRAGE FROM JAPAN -VOL. 4- 20 KILLER PUNK CUTS!-Label:1&2 20 KILLER PUNK CUTS! TYRADES, FM KNIVES, HIPBONE SLIM, THE REDS, SWEET JAP, FIFI & THE MACH 3 COMP CD $10 SKU:23611
HODGE PODGE & BARRAGE FROM JAPAN -VOL 3-24 GREAT BANDS FROM JAPAN,Label:1&2 USA,UK,EUROPE & AUSTRALIA FEAT. HUMPERS, BUM, JET BOYS, LA SECTA, EVIL HOODOO, CAMPUS TRAMPS, REGISTRATORS+ COMP CD $10 SKU:23612
$10 CD RESTOCK
CYNICS- Get Our Way ( 60s style garage psych )- Label:GET HIP Return to their garage roots with tinges of psychedelia sprinkled in for good measure. CD $10 SKU:10897
FUZZTONES - Horny As Hell (GARAGE rockers from Rudi Protrudi ) Label:NO FUN It's been some hard years for all fans of The Fuzztones. Finally the last record 'Salt For Zombies' was released in 2003. The longing for a new record is over and it was worth waiting. 'Horny As Hell' is one of the best Fuzztones creations ever! It brings you all that the Fuzztones are legendary for and much more. Mastermind Rudi Protrudi comes up with a 3 piece horn section and 4 female backing vocalists to get you the groove and to spearhead the new Garage Soul Movement that's rapidly sweeping Berlin (where the band now resides) and soon the rest of the world. So this time it's not only the Fuzz Madness that will blow your mind but also horns from hell - 'nomen ist omen'. The CD offers 17 tracks of hard-driving, hook-laden Rock 'n Roll anthems - the stuff that has made The Fuzztones inspirations to bands such as the Hives, the Horrors, and many more of today's 3rd generation of Garage rockers. Including future favorites 'Garden Of My Mind' and the Pretty Things track 'Alexander' which features Pretties' bassist and occasional lead singer Wally Waller as well as brand new versions of Fuzztones classics 'Ward 81' and 'She's Wicked' done in 'Big Band'-style. And last but not least get wild with Rudi's hypnotic vocal delivery - just as energetic and vital as when he formed the band 28 years ago! Additionally the band has made up a special tour this fall to make you go wild'n fuzzy! For that the Fuzztones 'Gonn Primitive' as Craig Moore of the garagepunk legend Gonn! appears as special guest during the tour. CD $10 SKU:10062
MULLENS-IT'S HARD TO IMAGINE-(Texas jangly garage-punk )Label:GET HIP 4th album by Dallas, Texas garage-punk combo, this time with the original lineup + a second guitar player! Best songwriting to date includes jangly garage stompers like the beautiful "Esmeralda" and drivin' punk rockers like the title track & more! CD $10 SKU:21824
ORIGINAL SINS- Self Destruct ( 60s Power Pop ) - Label:SKYCLAD 's Guitar/power/pop BLAST from one of the best rock bands from Pennsilvania. This album is heavier and rawer then the prev. ones. thick psychedelic rocksound with wailing organs and majestic blasts of snearing fuzzoverkill guitars. This record id dedicated to Velvets, Stooges, Seeds, Ramones and Bo Diddley. Sould say enough about it content. CD $10 SKU:9048
SHAMBLES --REviving Spark (1996 Mod power Pop) Label:1&2 Rare out of print Japanese only release. FANTASTIC MOD/POWER-POP BAND FROM SAN DIEGO, CA DEBUT RELEASE CD $10 SKU:20425
KILLED BY DEATH Vol 1-Raw Rare Punk Rock 77-82-Label:KBD COMP CD $10 SKU:22912
TOP TEEN BANDS VOL 1-60s GARAGE-Label:BUD JET US RELEASE. TOP TEEN 60s GARAGE COMPILATION. COMP CD $10 SKU:22917
TOP TEEN BANDS VOL 2-60s GARAGE-Label:BUD JET US RELEASE. TOP TEEN 60s GARAGE COMPILATION. COMP CD $10 SKU:22918
TOP TEEN BANDS VOL 3-60s GARAGE-Label:BUD JET US RELEASE. TOP TEEN 60s GARAGE COMPILATION. COMP CD $10 SKU:22919
BIG BOY PETE-Return to Catatonia (60s trippy psych) -Label:GEAR FAB Yes, the Bad Boy from Norwich, UK that recorded a ton of very psychedelic material on his own between 1966-1969.Big Boy Pete was truly a Pioneer of the English Freakbeat scene. England's best kept secret!! The CD version of the Tenth Planet LP released in 1998. Includes all the original artwork and liners by David Wells CD $10 SKU:19612
BOJAK RETSIEM PSYCHEDELIC UNDERGROUND (67 German explotation) LAST COPIES !-Label:GEAR FAB This 1967 German exploitation LP features fuzzed out vibrato guitar, wailing organs, and strong english vocakls very much like Hendrix, The Animals, Vanilla Fudge, and Iron Butterfly. A real psychedelic trip! CD $10 SKU:18725
COUNTDOWN FIVE -Complete Recordings 1969 GARAGE psych ) DBL CD Label:GEAR FAB Finally, the complete recorded history of Galveston's Premier Psychedelic/Garage band. All 7 of their Pic, Toucan, Cinema, and Cobblestone 45s PLUS 20 previously unreleased recordings from 1966-1969. With the exception of their first 2 45s on Pic (Tracks 1-4), all are off the master 4 & 8 Track tapes!! Featuring their complete biography with photos, posters, and other memorabilia from their inception to final break up!! Take a trip with the band members through the greatest period of American Rock Music!! CD $14 SKU:20074
ELDERS- Looking for the Answer ( Ohio flower pop rarirty)Label:GEAR FAB Another great and as yet undiscovered album from 1970. Formerly known as Jerry & The Others and also featuring Ron Skinner from The Pictorian Skiffuls, this Dayton, Ohio band recorded this album which blended driving guitar and organ with late flower pop music. CD $10 SKU:21715
ETERNITY'S CHILDREN- The Lost Sessions (60s Mississippi sunshine pop) -Label:GEAR FAB Toured alongside the Seeds, the Blues Magooes and headliners the Strawberry Alarm Clock. CD $10 SKU:23197
FAPARDOKLY- ST (60s pop, jangly folk-rock, psych)-Label:GEAR FAB Fapardokly is probably regarded as the most important release in Merrell Fankhausers long career, and an absolute collectors item. The band recorded about 30 tracks in a small studio in Palmdale, California, from 1965 to 1967, when the owner of the studio decided to release an album with some of these tracks. With such different recording dates, you find here different sounds..organ-ized 60s pop, jangly folk-rock, psychedelia. CD $10 SKU:18663
HELL PREACHERS INC /UGLY CUSTARD - Supreme Psychedelic Underground/ Psicosis (UK 60s psych, two great LPS on one CD! ) in mini lp sleeve -Label:GEAR FAB "From the UK, two great psych LPs on one CD, in mini-LP cardboard sleeve format. The Hell Preachers, Inc. were rumored to have had Deep Purple members Ritchie Blackmore, Jon Lord, and Ian Paice on some of these tracks but all three have persistently denied this. Ugly Custard featured the great guitar playing of Alan Parker, who was involved earlier with Hungry Wolf. From 1968 and 1971 respectively, this is fuzzed out guitar and screaming organ! CD $10 SKU:14911
LOCKSLEY HALL-ST (1969 Spokane psych rarity) Label:GEAR FAB This relatively unknown Spokane, WA. psychedelic band recorded this eerie and haunting LP in the Spring of 1969 at the legendary Audio Recorders in Seattle, WA. Produced by Sonics engineer Kearney Barton and long time Northwest guitarist Ned Neltner (Mark Five, Gas Company, Junior Cadillac), the beautiful vocals of Shannon Svenson are very reminiscent of the sounds being produced at that time by It's A Beautiful Day, Jefferson Airplane, and Big Brother & The Holding Company. CD $10 SKU:21529
MOCK DUCK - TEST Record (60s fuzzed out rarity)Label:GEAR FAB Well, we don't know what else to call this project because there were only 14 acetates made of their live recordings at The Village Bistro in Vancover, B.C. in October 1968. But
never fear, for we have unearthed the master Tapes form those sessions plus a lot more unreleased live and Studio recordings from this same period, including the 12 minute long studio session of June, 1968. Rising from the ashes of such famous Vancouver bands as The United Empire Loyalists, Cement City Cowboys and Six Cylinder, this band played a style of music that crossed between a fuzzed out John Coltrane sound to one of hard driving rock with Farfisa organ and blazing guitars and hard-edged vocals. Includes all their 45s releases plus other unreleased studio tracks. Don't pay $2,000 for an original copy of the acetate….just buy this release!!! CD $10 SKU:19301
MOUZAKIS - MAGIC TUBE PLUS 14 (Delaware power trio 70s psych-Label:GEAR FAB Before recording their great self-titled 1971 Psych LP, this band was previously known as The Fabulous Pharoahs. They recorded 7 45s on a variety of labels but this release also features 4 never before released tracks as well as their LP. CD $10 SKU:21723
ONES! -VOLUME ONE (1966 Connecticut psych gem)Label:GEAR FAB Finally we have uncovered a copy of this rare (R4) gem from back in 1966. Although these guys originated from Connecticut, they became one of the hottest opening acts in Boston in 1967, playing many of that city's best and most popular venues. Their renditions of the day's cover tunes are even better than the original songs CD $10 SKU:21710
OUBA - Freak Out Total (rare 1968 psych)Label:GEAR FAB Another ultra-rare Canadian lost classic. From 1968, this 30 minute long free for all psychedelic party features wild screaming organs and guitars and VERY LOUD drums.. CD $10 SKU:19001
PAPER GARDEN -ST (!968 psych obscurity Sgt Pepper style) Label:GEAR FAB The 1968 Psych obscurity LP from this previously unknown band from the New York area. Features liners by the newly-discovered band members. The mystery New York band that recorded this PSYCHEDELIC classic Lp in 1968. This five piece band intertwined screaming FUZZ guitar and dominant keyboards with the tastefull use of violins and some trombone to give it a 'Sgt. Pepperish' type of sound. They fully succeeded CD $10 SKU:21726
SKY FARMER - Amazing Grace (1971 country blues psych) Label:GEAR FAB "Country blues with tinges of psychedelia" -- a cross between J. Geils and It's A Beautiful Day. he Post-Mountain Bus R&B/Rock band that fromed in 1971 and continued on until 1975. Never before released studio and live sessions!! CD $10 SKU:21732
LOUISVILLE in the 60s - The Lost Allen Martin Tapes- Label:GEAR FAB Since the 1960's, the Allen-Martin Studio in Louisville was the place to record for most of the bands in the region. In 2006 when Ray Allen and Hardy Martin retired, the studio closed, a group of music lovers (Jay Petach, Marvin Maxwell & Ed Amick) stepped in to rescue the tapes for the all of bands who had recorded there over the last forty-plus years .After a careful down select process, we chose these 18 previously unreleased tracks as the best representation of the over 100+ songs we sorted through: COMP CD $10 SKU:21234
PSYCHEDELIC STATES- INDIANA In The 60's VOL 1-Label:GEAR FAB Featuring many never before heard bands. Many unseen photos and stories LATEST IN THE PSYCH STATES SERIES UNCOVERS MORE GARAGE MONSTERS, THIS TIME FROM INDIANA. INCLUDES TRACKS FROM THE ENDD, THE TIKIS, LORD & THE FLIES, SIR CHARLES & THE DAYS OF OLDE, THE SERFMEN, THE CHEVELLES AND MANY MORE. COMP CD $10 SKU:4896
PSYCHEDELIC STATES- WEST VIRGINIA (77 minutes of 60s garage psych) Label:GEAR FAB Another gorgeous volume in the beloved 'Psychedelic States' series! Dedicated to West Virginia, the CD offers about 77 minutes of '60s garage and psych delight from (mostly) obscure bands s.a. The Mysterians, Mojos, Lost Soul, Flys, Rondeus, Al's Dynamics, King James & The Royal Jesters, Long Brothers, Satisfied Minds, Blue Creed, J.T. & The Trolls, Pee Wee & The Prophets, Second Set, Plastic Menagerie, New Mason Dixons, Barracuda's, Sons Of Liberty and 12 more! COMP CD $10 SKU:21967
PSYCHEDELIC STATES- TEXAS In The 60's VOL 1-Label:GEAR FAB Many never before released and rare bands from '66-'68 with lots of photos and stories. Including 2 prev unre tracks by Bubble Puppy + bands like Pastels, Crabbs, Airhead, Pastels,etc. 18 tracks COMP CD $10 SKU:23196